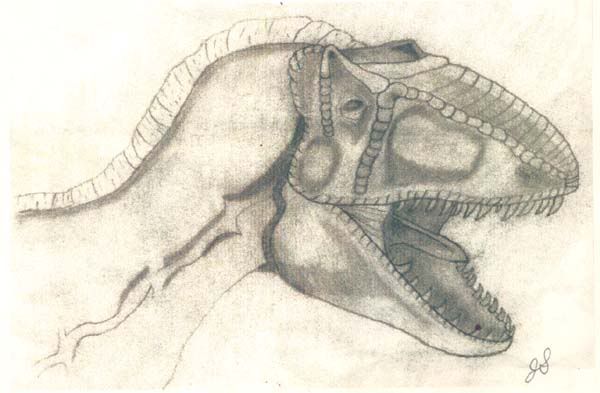 Well, here it is! Unfortunately, this is the only one I still have any record of. I also drew a bust of both Corythosaurus and Parasaurolophus, but one was given to a friend of the family who moved out of state and later passed away, while the other was given to a friend in high school who lost it. >.< But yea, this Acrocanthosaur bust was something i did in High School my Senior year, so back in 2000. Took me three days to get all the shading and everything how I wanted it, but I really like how it came out. :)
I know it looks pretty rough, but that is because the orginal was lost long ago and I had to scan a copy of it I printed out (hence the ink blot stains...the printer it was printed on wasn't the best). Drawn with a regular #2 pencil on typing paper and smear-shaded with a folded strip of yellow tablet paper (my finger was black for days when I was done. XD). I am not one of those who can draw from memory, so I used a picture reference for this. Original picture was done by an unknown artist and published in issue 38 of a magazine series called Dinosaur! in 1993, put out by Atlas Editions Partworks. For some reason, they stopped publishing the art credits at issue 12...
This was an educational paleo-series which is, sadly, very difficult to find nowadays. I have the entire series though, from 1 - 103, all in the custom cardboard binders they were shipped with. This series covered every dinosaur known at the time, and had many fun little stories and quiz-like games to teach people all the little intricacies and differences of the very diverse group of extinct animals known collectively as "Dinosaurs."
EDIT: I can't figure out to get the blasted thing to not cut the image in half. >.< Just click on it and it will bring up the whole image.